Innovation 600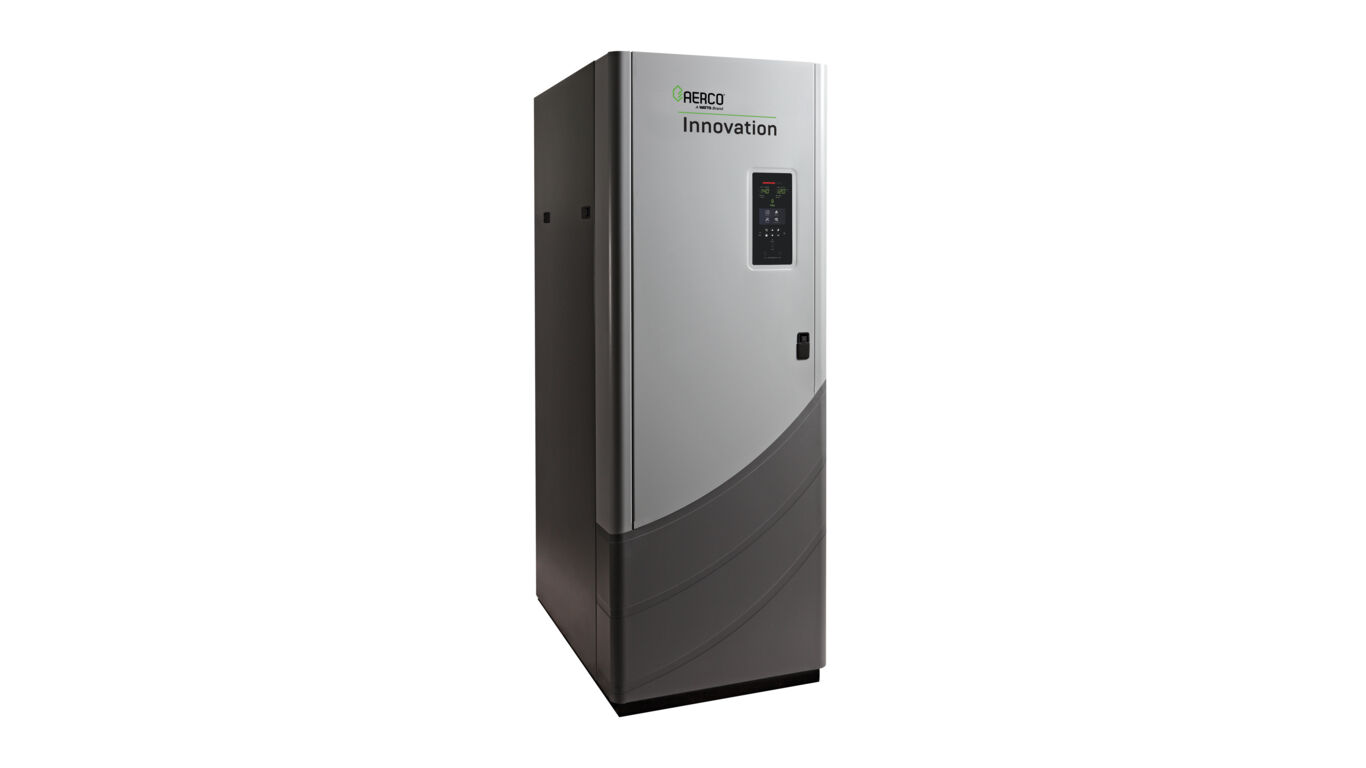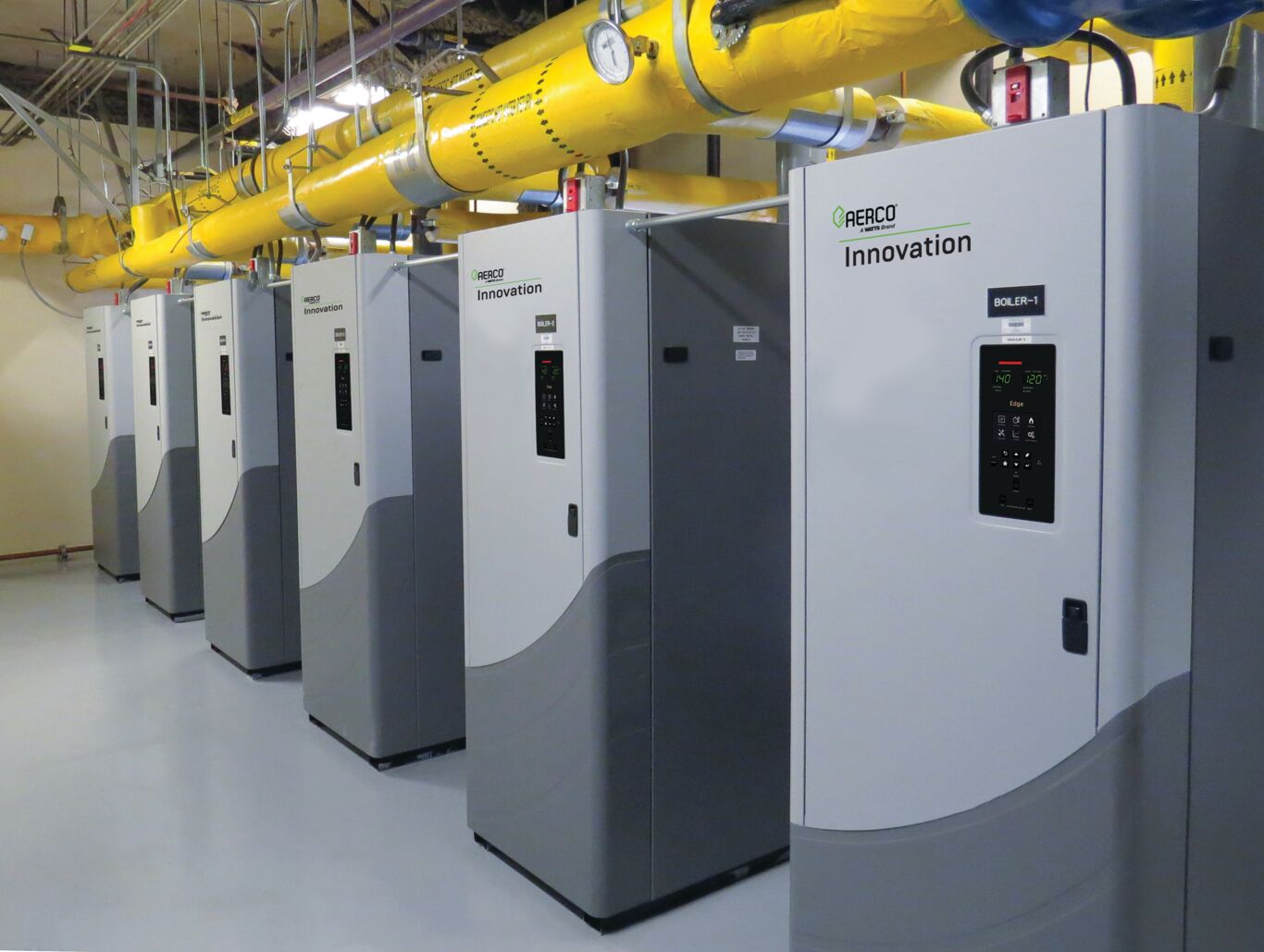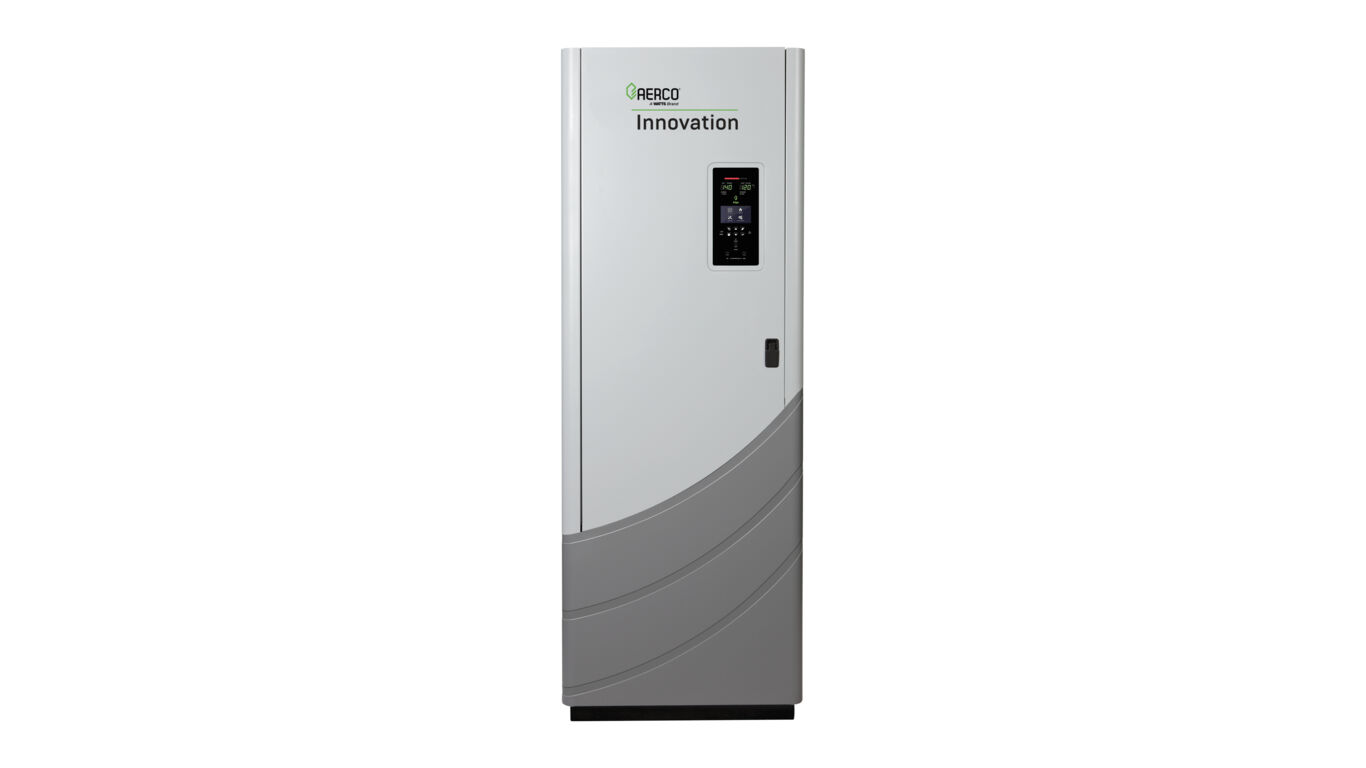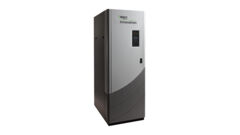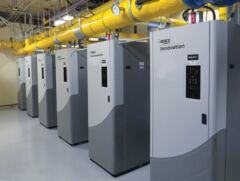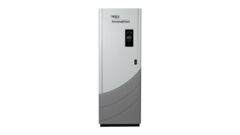 625 MBH
High efficiency, gas-fired, fire tube water heater
Tankless design with compact footprint
The AERCO Innovation commercial tankless water heater provides safe, reliable hot water on demand without the need for any significant storage volume to buffer load change and provide stable hot water temperatures. Due to its unique tankless design, the Innovation has the smallest footprint of any commercial water heater saving facility space by eliminating storage tanks and its ability to use common venting. It's easy to install, simple to service and cost effective eliminating the need for expensive storage tanks, mixing valves and tank circulators. Innovation's robust AERguard™ heat exchanger assembly improves scale and corrosion resistance for superior reliability and product life.
AERCO's Innovation 600 is the ideal water heater for a variety of commercial applications, including retrofit and new construction projects, that require one or multiple 625 MBH water heaters.
Features and Benefits
Long-lasting and highly reliable AERguard stainless steel helical firetube heat exchanger assembly is thermal shockproof and scale resistant
2-3x warranty protection vs. the competition
Precise temperature control ±4°F due to dynamic feed-forward sensing and unmatched turndown
Low operating, maintenance and installation costs
High efficiency with lower set point of 124°F
Compact footprint creates more available space
1/3 the standby losses compared to conventional tank-type heaters
Easy installation and venting versatility; direct/conventional venting with PVC, CPVC, Polypropylene or AL29-4C materials
Low NOx and CO emissions
Able to daisy-chain multiple units for applications over 1000 MBH
Eliminates need for mixing valves, tank circulators, storage tanks
AERguard Heat Exchanger Assembly
The AERCO Innovation water heater utilizes state-of-the-art technology to easily meet highly diverse, demanding commercial and industrial hot water requirements in a compact and reliable condensing design. The durable, high-efficiency helical firetube heat exchanger is time tested to be impervious to thermal stress for an extended life. The all stainless steel construction maximizes longevity in the condensing application and the corrugated tubes increase effective heat transfer surface area for optimal thermal efficiencies. Enhanced waterside flow distribution maintains constant minimum velocities across the heat exchanger keeping solids in suspension and greatly reducing scale dropout to maintain high-efficiency performance and long life.
Edge Controller
The advanced Edge [i] Controller incorporates dynamic feed-forward sensing for precise modulation of its turndown air/fuel delivery system. The Edge fires the unit to accurately match load requirements and produce tight hot water outlet temperature control. Edge includes onboard multi-unit sequencing logic for up to 16 units, eliminating the need for a separate sequencing panel. Wasteful overshooting and cycling are virtually eliminated as is the need for storage tanks, mixing valves and other temperature averaging components in most applications.
Water Heater Management
Water Heater Management is the only sequencing control that truly addresses two key water heating system performance issues: cycling and standby losses. This feature guarantees that an installed system of multiple Innovation heaters:
Optimizes operating efficiencies at all load conditions
Virtually eliminates standby losses
Increases system reliability through reduced cycling
Accurately tracks daily domestic hot water demands
Precise Temperature Control and High Turndown Deliver Money-Saving Precision
The advanced control system incorporates dynamic feed-forward sensing for precise modulation of its high turndown air/fuel delivery system. These controls fire the unit to accurately match load requirements and produce a tight hot water outlet temperature control. With up to 12:1 turndown, the Innovation 600 takes maximum advantage of its thermal efficiency, eliminating wasted fuel and reducing operating costs.
Legionella and Scalding Mitigation with Tankless Design
The unique tankless design gives the Innovation its ability to operate the system with a set point of 124°F saving energy and reducing the risk of scalding while eliminating the need for costly mixing valves. Because water volume is kept to a minimum and continual circulation is maintained through the unit, the Innovation also mitigates the risk of Legionella bacteria growth.
Space-Saving Design
The AERCO Innovation is delivered as a single, fully assembled unit. Its small footprint, ability to fit through a standard doorway and quiet operation make it ideal for both new construction and retrofit applications.
Venting Versatility
Several venting options are available to provide broad installation flexibility and savings including sidewall, through-the-roof, and ducted combustion capabilities (direct-vent). Innovation is approved for venting with PVC, CPVC, Polypropylene, or AL29-4C materials. Innovation also allows for common venting with different sized units, as well as in combination with Benchmark boilers.
High Turndown Air/Fuel Valve Delivery System with Low Emissions
To minimize emissions, the Innovation is fitted with a premixed stainless steel fiber mesh burners for high-efficiency combustion and low pollutant levels of less than 20 ppm NOx.
Double Block and Bleed Gas Train (formerly IRI)
Innovation incorporates two safety shut-off valves in a single valve body with normally open vent valve.
Options and Accessories
Technical Documents
Technical Documents
Application and Sizing Guidelines

Certifications/Approvals

Installation and Piping Drawings

Installation, Operation and Maintenance Manuals

Installation, Operation and Maintenance Manuals - International

Installation, Operation and Maintenance Manuals - Previous Versions

Instructions

Literature, Performance and Dimensions

Product and Component Drawings

Specifications and Schedules

Startup, Installation and Maintenance Forms

Warranty

Wiring
Share this Product