ADMS (AERCO Digital Mixing Station)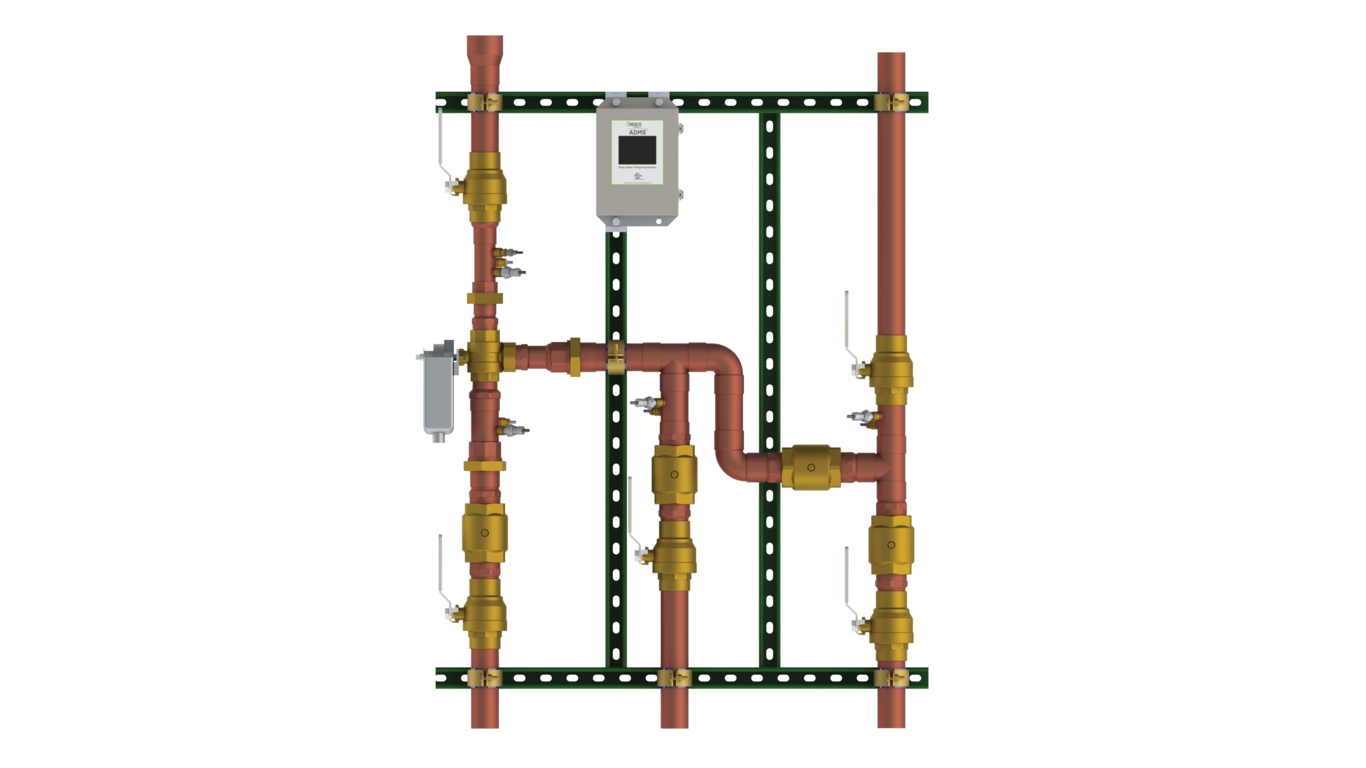 Smart water tempering system that regulates distribution temperature within ±2ºF
The ADMS™ (AERCO Digital Mixing Station) is a smart water tempering system that allows temperature-controlled distribution of potable hot water throughout the domestic hot water loop. The lead-free ADMS regulates distribution temperature within ±2ºF in accordance to ASSE 1017 at all flow conditions (including low and zero demand periods) and its temperature setting is field configured without the use of special software and laptop.
The building automation system (BAS) ready ADMS can be configured with strainers, building recirculation pump and Flow/BTU monitor package to allow facilities managers to remotely monitor and control distribution water temperatures along with monitoring of flow and energy consumption. Unlike the traditional thermostatic mixing valves, it is capable of functioning under varying pressure differentials across the inlets. The ADMS when paired with an AERCO water heater provides a fully integrated and proven solution from a common manufacturer for safe and reliable hot water distribution.
Features and Benefits
If local code mandates use of a mixing valve or for storage tank or two temperature applications with AERCO water heaters, it is recommended to use ADMS.
Configurable on site without special software and laptop
Tight temperature control of ±2ºF in accordance with ASSE 1017
Control ±2°F during periods of low/zero demand
3.5" full-color, user-selectable touch screen display
User programmable high-temperature sanitization mode
Cold water failsafe with manual override feature to set mixed outlet temperature
Settings can be adjusted/monitored at the controller or remotely via BACNET or Modbus interface
Displays pressure, temperature and flow/BTU data
Pass code protected for security
User programmable high temperature alarm
Options and Accessories
ADMS can be ordered in a variety of different configurations depending on the application and desired options. The valve size, valve quantity and building recirculation pipe size can be derived from the application flow rate and acceptable pressure drop. The building recirculation pipe size can be selected to be 1" return or 2" return for single valve configurations. For double or triple valve configurations, the building recirculation pipe size is 3".
The Flow/BTU monitoring package, strainers and building recirculation pump options can be individually selected. When choosing the recirculation pump, the following information must be furnished to AERCO: Pump Manufacturer, Manufacturer Model and Part Number, System Head Loss and required Flow to maintain Recirculating Temperature.
Technical Documents
Technical Documents
Share this Product