B+II WaterWizard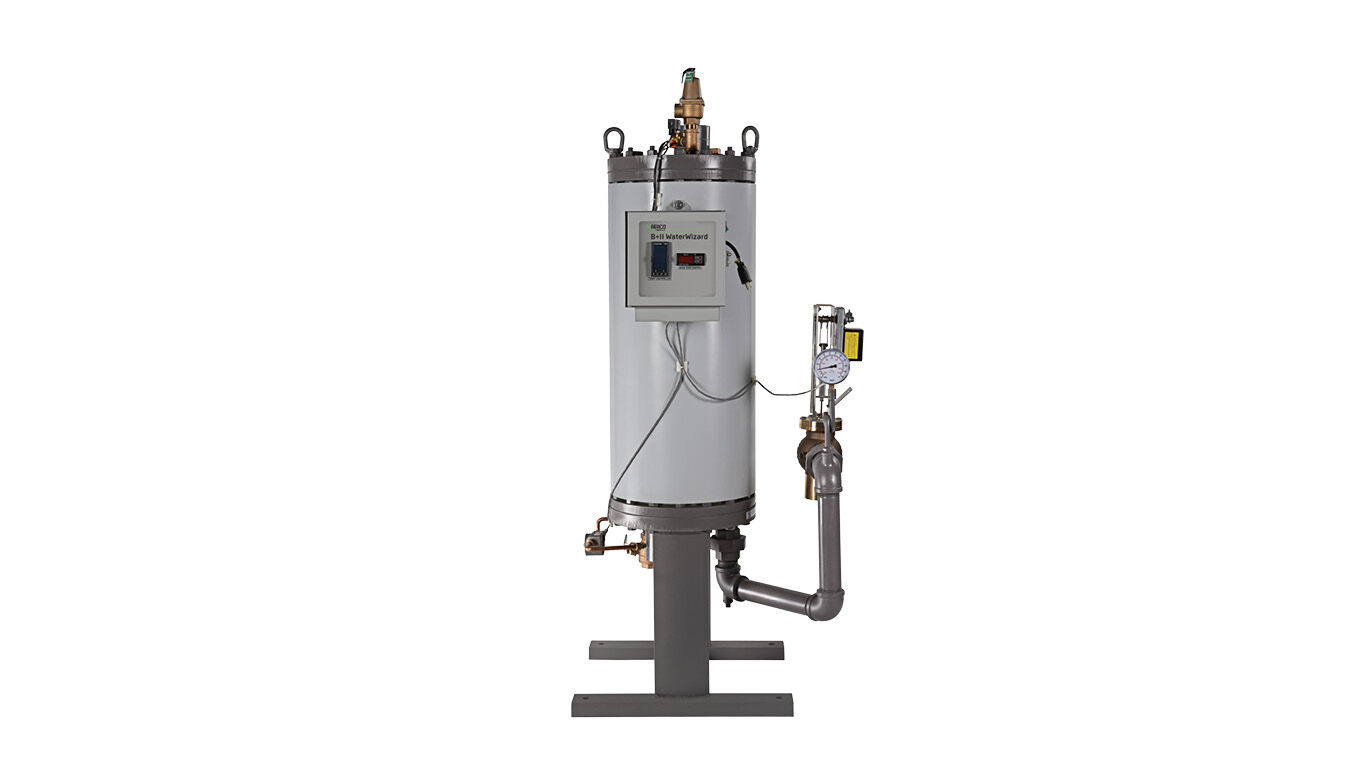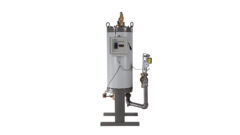 Steam-to-water water heater
Compact, tankless design
500 to 1100 MBH
Our most popular steam-to-water package, the B+II WaterWizard features dedicated sub-cooling capabilities for enhanced operating efficiency.
AERCO's unique feed-forward monitoring system and fully modulating control valves maintain +/-4°F water temperatures under the persified load patterns of commercial domestic hot water applications. Performing with 90%-99% thermal efficiency, the unique 2-pass helical coil heat exchanger design of these single wall heaters is self-descaling and produces sub-cooled condensate (<160°F) to preserve condensate return pump life. All units are compatible with low or high steam pressures and do not require a storage tank, trap or associated maintenance.
Features and Benefits
Accurate temperature control ±4°F
Low-cost installation with compact <4 ft2 tankless footprint
Sub-cooling design for maximum efficiency
Self-descaling design reduces maintenance
Long-lasting durability
Automatic condensate subcooling
Fully modulating variable steam input
No trap or storage tanks required
Low surface temperature
ASME- B&PV Code Sec. VIII, Div. 1 stamped
All copper, copper alloy or stainless steel wetted surfaces
Choice of electronic or pneumatic controls
10-Year warranty on complete heat exchanger
20-Year warranty on pressure vessel and integral demand anticipator
Available in 13 sizes, from 500 to 11000 MBH
Options and Accessories
Bare Heater
Heat exchanger pressure vessel assembly on its stand.
Coil Material
Standard: Copper or copper alloy wetted surfaces
Optional: Copper Nickel or 0.065" thick Copper tubing
Packaged Heater
Shipped completely assembled and ready for immediate hook-up; includes heat exchanger, your choice of electronic or pneumatic steam valve, and full controls package.
Electronic Controls
AERCO's exclusive electronic control system combines a control box assembly with all circuitry, a flow meter installed at the cold water inlet for feed-forward sensing, feedback sensors and voltage regulator. To maintain optimal temperature control, the system utilizes PID algorithms to monitor outlet temperature and change control valve position. Easy-to-use digital displays are protected by clear-cover enclosure which can be locked. The system also includes an overtemp limit switch.
Modbus Communications
Optional control board supports remote control and integration via Modbus protocol to Building Automation or Energy Management Software via RS-232 or RS-485 port.
Dry Contacts
Optional for remote "High Limit Tripped Status" indication.
Pneumatic Controls (B+II WaterWizard only)
AERCO's exclusive Loadalert system continuously monitors water temperature and flow and modulates the flow of steam through the control valve and into the coils. Control panel includes pneumatic controller and dual solenoid valve over-temperature limit system. (One solenoid to disable steam control valve; One solenoid to perform as a secondary water relief valve.) Power on/tripped status lights, liquid-filled remote capillary thermometer and compound steam pressure gauge also included.
Technical Documents
Technical Documents
Application and Sizing Guidelines

Installation and Piping Drawings

Installation, Operation and Maintenance Manuals

Instructions

Literature, Performance and Dimensions

Product and Component Drawings

Specifications and Schedules

Startup, Installation and Maintenance Forms

Warranty

Wiring
Share this Product