U-Tube Double Wall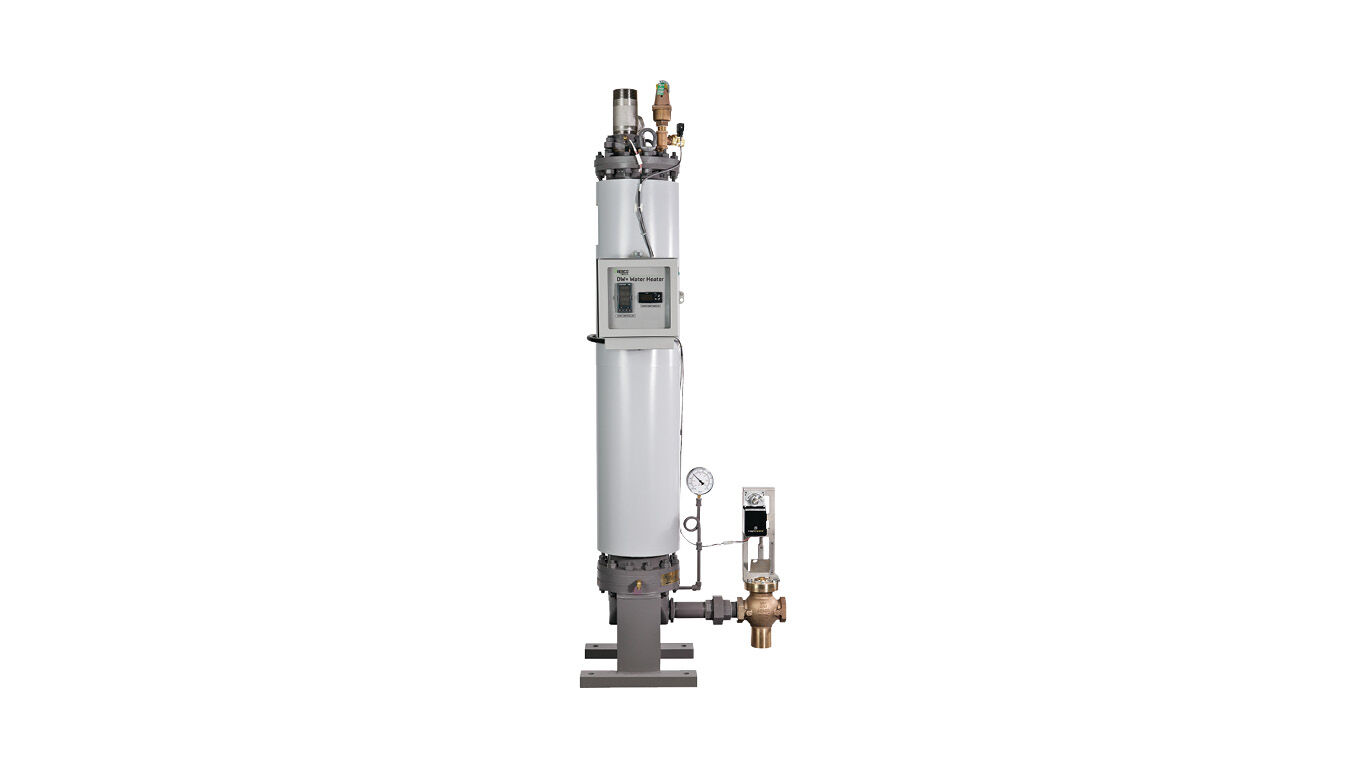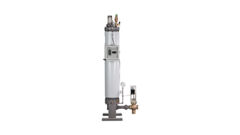 Steam-to-water water heater
Compact, tankless design
Available in three models
The AERCO DW+ water heater is designed to satisfy potable water heating needs in commercial and institutional environments. The packaged system incorporates real-time, load tracking and responsive controls to maintain accurate hot water temperatures under varying loads and can be fueled using steam.
Packaged with electronic controls, the heater maintains outstanding temperature control when operated under constant load conditions with variances held to ±4°F under normal load changes of up to 25% of water heater capacity. An integrated load monitoring system and high turndown control valve deliver accurate temperature control without the need for storage tanks, blending valves or other temperature averaging components. When packaged with the electronic control system, the heater can be remotely monitored and/or fully integrated with BAS software.
The DW+ indirect fired water heater come in three models:
Model #SWDW24
Model #SWDW45
Model #SWDW68
Features and Benefits
Each compact steam-to-water heater utilizes a space-saving, vertical, double wall U-tube heater exchanger specifically designed to insure that no mixing of the steam and domestic water flows can occur without prior warning. Compliant with BOCA, IAPMO and NAPHCC code requirements, all wetted parts are 304 stainless steel, virgin Teflon, copper or copper alloy for longevity.
Accurate temperature control ±4°F
Compact footprint <4ft²
Fully modulating variable primary input
All Stainless, TFE, Copper or Copper Alloy Wetted Surfaces
UL-listed as doublewall heat exchanger for potable hot water use
ASME- B&PV Code Sec. VIII, Div. 1 Stamped
Options and Accessories
Bare Heater
Heat exchanger only; insulation optional.
Packaged Heater
Shipped completely assembled and ready for immediate hook-up; includes heat exchanger, patented AERCO steam control valve and electronic controls package.
Duplex Shell
Duplex Stainless Steel is available for demanding applications.
Electronic Controls
AERCO's exclusive electronic control system combines a control box assembly with all circuitry, a flow meter installed at the cold water inlet for feed-forward sensing, feedback sensors and voltage regulator. To maintain optimal temperature control, the system utilizes PID algorithms to monitor outlet temperature and change control valve position. Easy-to-use digital displays are protected by clear-cover enclosure which can be locked. The system also includes an overtemp limit switch.
Modbus Communications
Optional control board supports remote control and integration via Modbus protocol to Building Automation or Energy Management Software via RS-232 or RS-485 port.
Dry Contacts
Optional for remote "High Limit Tripped Status" indication.
Technical Documents
Technical Documents
Application and Sizing Guidelines

Installation and Piping Drawings

Installation, Operation and Maintenance Manuals

Instructions

Literature, Performance and Dimensions

Product and Component Drawings

Specifications and Schedules

Startup, Installation and Maintenance Forms

Warranty

Wiring
Share this Product