X400 System Restorer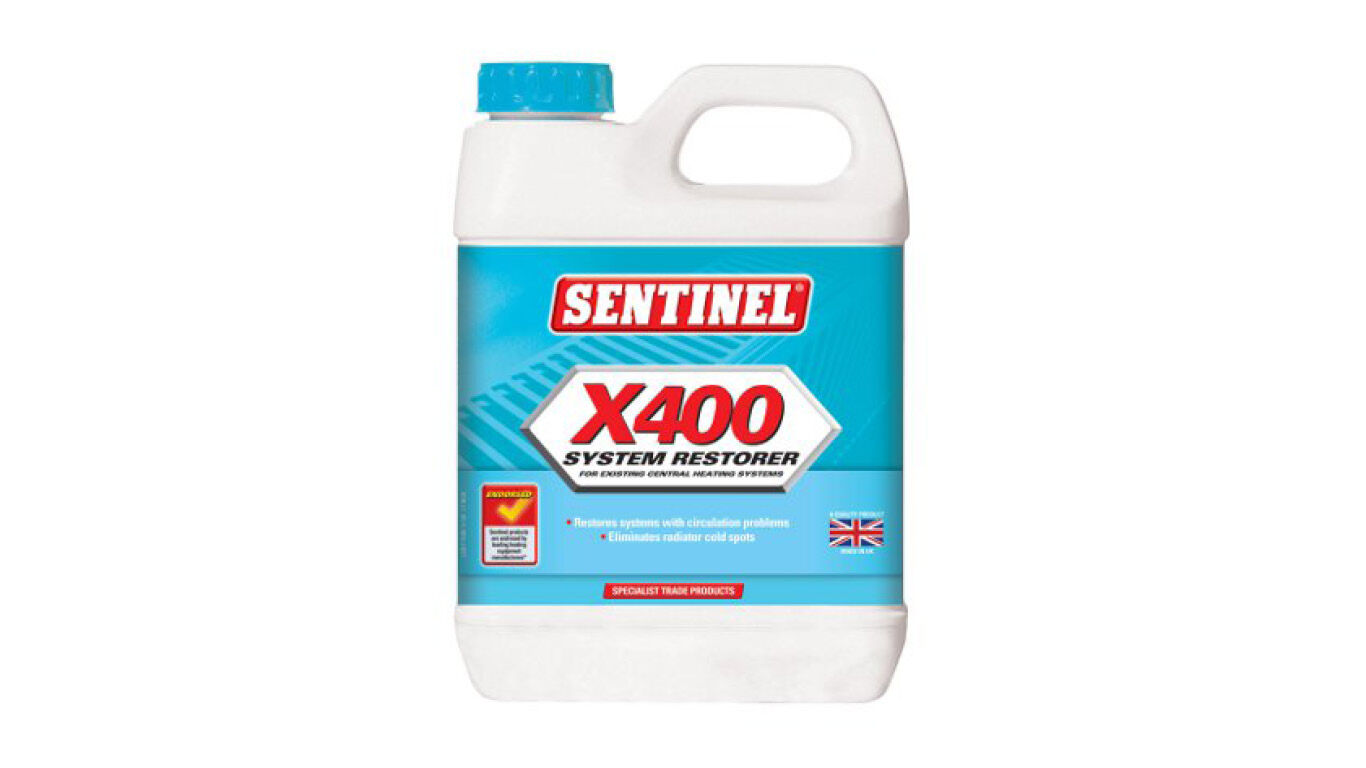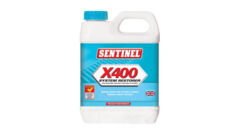 Removes build-up of magnetite sludge
Eliminates cold spots and restores full heat emission
Specifically designed for existing systems Sentinel X400 System Restorer is a non-acid treatment for cleaning older heating systems, restoring circulation to radiators and pipework. A ruthlessly efficient way to eliminate the build-up of magnetite sludge, X400 is the quick and easy way to eliminate cold spots and restore full heat emission. Helps to improve and maintain system efficiency and conserve fuel.
Benefits of Proper Cleaning & Flushing will help explain what the problems associated with sludge build-up are and what Sentinel chemicals can do to eliminate these problems and restore optimum efficiency to a heating system.


Features and Benefits
Restores systems with circulation problems
Eliminates radiator cold spots
Can be used in all systems
Prepares existing systems for the installation of new boilers, pumps or panels
Does not cause pin-holing or leaks
Packaging
Applications
Sentinel X400 has been formulated for the effective cleaning of existing central heating systems where there is a significant amount of magnetite corrosion debris and sludge.
Sentinel X400 disperses old corrosion deposits and sludge. It is ideal for use where a new boiler or pump is to be fitted to an existing system, or where radiators have cold areas or are partly blocked due to sludge build up.
Sentinel X400 is a non-acid formulation which can be used in all types of indirect heating systems including those containing aluminium components.
Dosage
One quart of Sentinel X400 is sufficient to treat a typical domestic system of up to 25 gallons. Larger systems should be dosed at 1% of system volume. To clean an existing system Sentinel X400 should be circulated, preferably at normal operating temperature, with all valves open and the pump turned to a maximum flow for a minimum period of 2 hours or until satisfactory performance is restored. Where systems are badly fouled, a longer period of circulation (e.g., up to 4 weeks) is recommended, but the product will not clear a completely blocked pipe.
The product is not aggressive and can be safely left in the system for extended periods.
Rapid cleaning may be performed if Sentinel X400 is used in conjunction with a power flushing device.
Flush the system before refilling and treating with Sentinel X100 inhibitor or Sentinel X500 inhibited antifreeze.
Feeding
Open Systems: Dose via F&E cistern, via a by-pass feeder or use a dosing vessel.
Sealed Systems: If the system is empty, add to any convenient point before filling. If full, use a dosing vessel to inject via the filling loop or other access point.
Physical Properties
Appearance: Yellow to brown liquid
Odor: Mild
Specific Gravity: 1.020 (68°F)
pH (concentrate): 7 (approx)
Freezing point: 30°F
Safety Information
Sentinel X400 System Restorer for Existing Central Heating Systems
An aqueous solution of synthetic organic polymers
Health Hazards
Not for use in potable water systems
Not considered hazardous to health
Handling
Keep out of the reach of children.
Avoid contact with skin and eyes.
Wash out empty container thoroughly with water before disposal
Storage
Keep container tightly closed
Store in cool, well ventilated area
Spillage
Flush spillage with plenty of water and wash to waste
Fire/Explosion Risks
Non-flammable
Skin Exposure
After contact with skin, wash immediately with plenty of water.
If irritation develops, seek medical attention
Eye Exposure
In case of contact with eyes, rinse immediately with plenty of water and seek medical advice.
Keep eyelids apart
Ingestion
Give plenty of water to drink
Do NOT induce vomiting!
Seek medical attention
FAQs
How does Sentinel X400 work?
Older, or poorly maintained systems can suffer from a build up of corrosion debris and other contaminants that settle in the system as a black sludge causing circulation problems resulting in cold spots in radiators or even blockage. Sentinel X400 works by lifting and dispersing the sludge into the circulating water so that it can be removed by draining and then flushing the system. After cleaning the system in this way, it should be filled with fresh water and protected from further corrosion using Sentinel X100 inhibitor.
How long can I leave Sentinel X400 in the system?
Sentinel X400 needs to be circulated in the system for a minimum of two hours at operating temperature, but can be left circulating for up to 4 weeks in heavily fouled systems.
My system is over 20 years of age - can I still use Sentinel X400?
Yes, Sentinel X400 is designed to help bring older or poorly maintained systems back to health. Sludge in the system leads to heating inefficiency and can damage pumps and valves. The older the system, the more likely it is to suffer from this problem.
I'm putting a new boiler (or new pump) onto my old system... Should I clean and flush the system before start-up?
Sentinel X400 is ideal for use where a new system component such as a pump or boiler is being replaced. This is an opportune time for cleaning the system with Sentinel X400 to remove sludge that could otherwise damage new parts... and of course, after cleaning, addition of inhibitor will protect the system and help prevent such problems occurring in the future.
Technical Documents
Technical Documents
Share this Product