X300 System Cleaner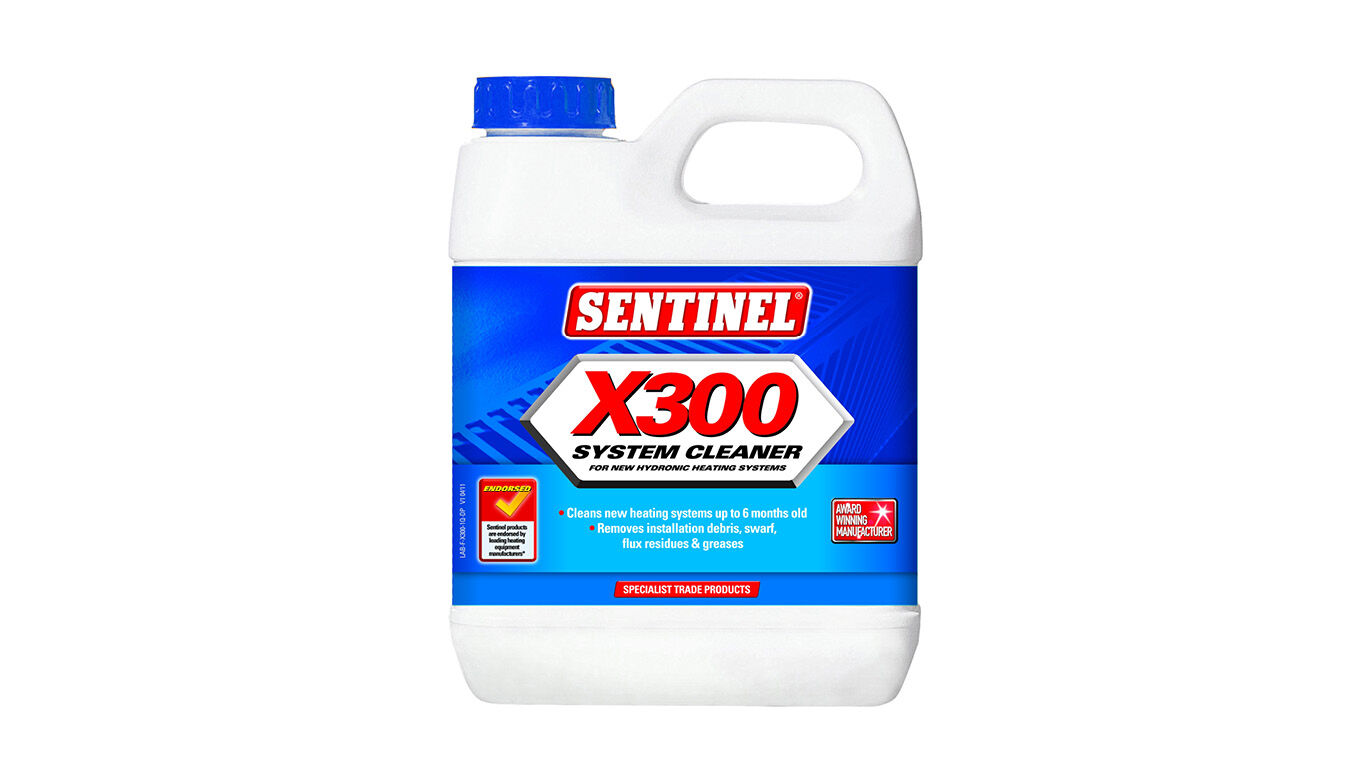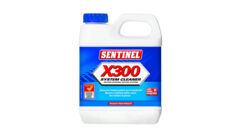 Flushes out flux installation debris from indirect central heating systems
Helps to maintain system efficiency
Sentinel X300 System Cleaner is specifically designed to flush out flux installation debris from new indirect central heating systems and those up to 6 months old. X300 cleaner helps to maintain system efficiency and conserve fuel.
Benefits of Proper Cleaning & Flushing will help explain what the problems associated with sludge build-up are and what Sentinel chemicals can do to eliminate these problems and restore optimum efficiency to a heating system.
Features and Benefits
Cleans new heating systems up to 6 months old
Powerful, heavy duty cleaning action
Removes installation debris, swarf, flux residues & greases
Eliminates corrosive flux residues which could give rise to rapid pin-holing corrosion of radiators
Prevents harmful copper deposits being left in the system
An ideal preparation for X100 inhibitor
Packaging
4 x 1 Gal. case
5 Gal. jug
Applications
Sentinel X300 has been formulated as a cleansing aid for new central heating systems and those up to 6 months old. It will effectively remove excess flux residues, greases, oily contaminants, sludge and installation debris.
Sentinel X300 passivates the metal surfaces in the system and helps prevent copper deposition, which frequently causes severe pin-hole corrosion in radiators.
Sentinel X300 is a neutral formulation which can be used in all types of indirect heating systems including those containing aluminium components.
Dosage
One quart of Sentinel X300 is sufficient to treat a typical residential system of up 25 gallons. If the system is new, this should be at the time it is first filled. Sentinel X300 should be circulated with all valves open for a minimum period of one hour. Warming the water will aid the process.
Drain and flush the system before refilling and treating with Sentinel X100 inhibitor or Sentinel X500 inhibited antifreeze.
Feeding
Open Systems: Dose via F&E cistern, via a by-pass feeder or use a dosing vessel.
Sealed Systems: If the system is empty, add to any convenient point before filling. If full, use a dosing vessel to inject via the filling loop or other access point.
Physical properties
Appearance: Slightly hazy colorless to pale yellow liquid
Odor: Mild
Specific Gravity: 1.23 (68 F)
pH (concentrate) : 7 (approx)
Freezing point: 32 F
Safety Information
Sentinel X300 System Cleaner for New Central Heating Systems
An aqueous solution of phosphate, organic heterocyclic compounds, polymers and organic bases.
Health Hazards
Not for use in potable water systems
Not considered hazardous to health
Handling
Keep out of the reach of children.
Avoid contact with skin and eyes.
Wash out empty container thoroughly with water before disposal
Storage
Keep container tightly closed
Store in cool, well ventilated area
Spillage
Flush spillage with plenty of water and wash to waste
Fire/Explosion Risks
Non-flammable
Skin Exposure
After contact with skin, wash immediately with plenty of water.
If irritation develops, seek medical attention
Eye Exposure
In case of contact with eyes, rinse immediately with plenty of water and seek medical advice.
Ingestion
Rinse mouth with water
Do NOT induce vomiting!
Seek medical attention
FAQs
What does Sentinel X300 actually do?
Designed to clean new or almost-new systems, it dissolves or disperses the flux, greases and copper debris which are invariably left in the system after installation.
How long do I need to leave Sentinel X300 in the system?
Sentinel X300 should be circulated for at least 1 hour at operating temperature, or up to 24 hours if circulated cold... but no longer, and the system should be flushed with clean water immediately after use.
Do I need really need to flush out the Sentinel X300?
Yes it MUST to be flushed out otherwise all the contamination will remain in the system.
Is Sentinel X300 safe to use in systems that have plastic piping?
It is fine to use with plastic components. In fact, all Sentinel products have been extensively tested for use with systems having common plastic components.
Technical Documents
Technical Documents
Share this Product