X100 Inhibitor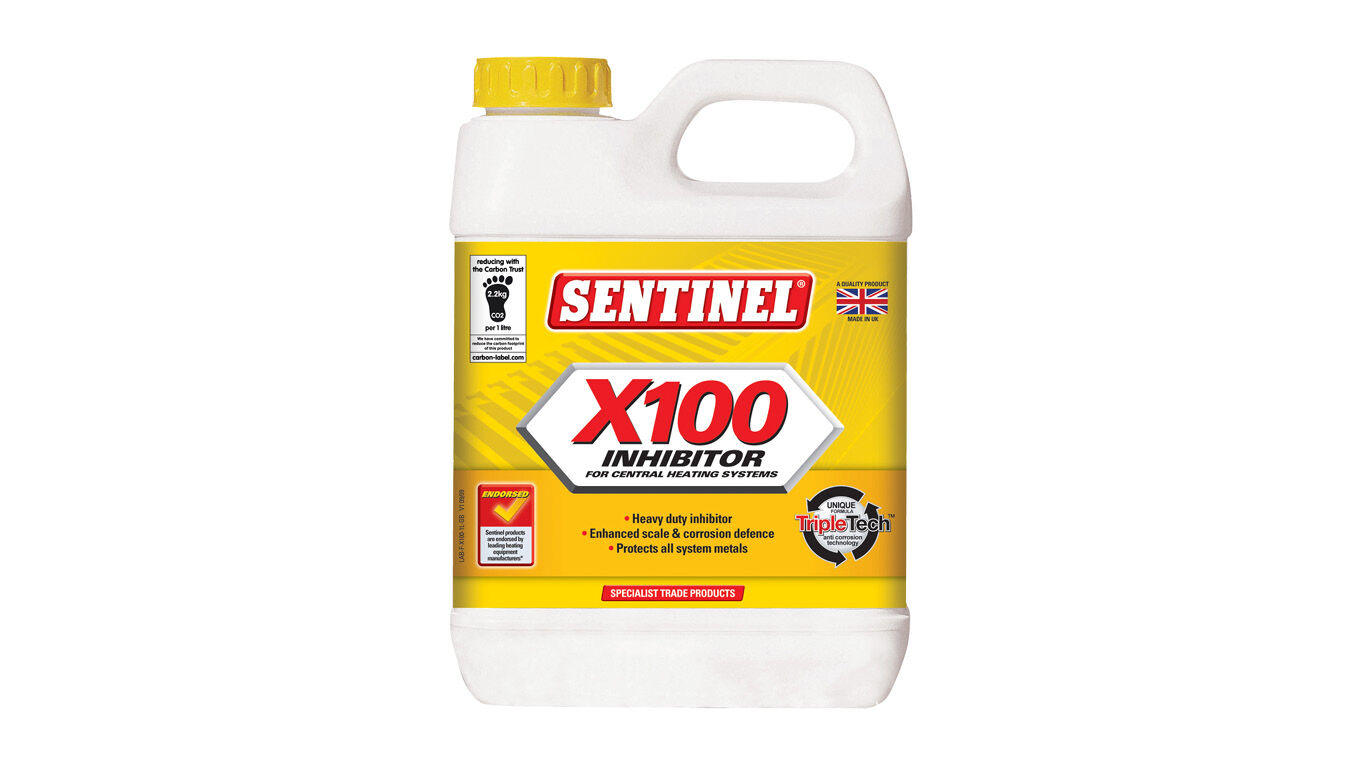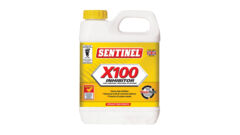 Protects against scale and corrosion
Ensures maximum efficiency of unit
Extends life of system
A general-purpose treatment for total protection against scale and corrosion in all types of indirect central heating systems, including those containing aluminum. Will extend the life of the system, and ensure maximum efficiency and minimum fuel usage. Once added, Sentinel X100 never needs to be replaced unless the system is drained down.
Features and Benefits
Heavy duty inhibitor
Enhanced scale and corrosion protection
For all system metals
pH neutral formulation- easy to handle
Ensures optimum boiler efficiency
Prevents boiler noise
Prevents pin-holing
Helps prevent the formation of hydrogen gas
A simple test kit is available to check levels
Harmless to the environment, completely non-toxic and biodegradable
TripleTech™ Technology
X100 Inhibitor contains, TripleTech™ Anti-Corrosion Technology - a unique formula which has three different kinds of heavy-duty specialist corrosion inhibitors each of which target a specific metal-type for unrivalled performance in a multi metal system.
TripleTech Anti-Corrosion Technology has been formulated to protect against corrosion, scale, boiler noise and hydrogen gassing in all types of indirect heating systems.
The technology helps our products to outperform our closest competitors.
Packaging
4 x 1 Gal. case
5 Gal. jug
Applications
Sentinel X100 has been formulated as a multipurpose treatment to inhibit corrosion, scale, boiler noise and hydrogen gassing in all types of indirect heating systems including those containing aluminum components.
Sentinel X100 is suitable for use in all waters, both hard and soft. The formulation is completely non-toxic.
Dosage
One quart of Sentinel X100 is sufficient to treat a typical residential system of up to 25 gallons. Larger systems should be dosed at 1% of system water volume.
For best results, systems up to 6 months old should be cleansed and flushed with Sentinel X300, existing systems with Sentinel X400. If the system is already noisy due to deposits in the heat exchanger, Sentinel X200 should be added together with Sentinel X100.
Feeding
Open Systems: Dose via F&E cistern, via a by-pass feeder or use a dosing vessel.
Sealed Systems: If the system is empty, add to any convenient point before filling. If full, use a dosing vessel to inject via the filling loop or other access point.
Physical properties
Appearance: Clear colorless to pale blue or pale yellow liquid
Odor: Mild
Specific Gravity: 1.12 (68°F)
pH (concentrate): 6.5 (approximately)
Freezing point: 27.5°F
Safety Information
Sentinel X100 Inhibitor for Central Heating Systems
An aqueous solution of inorganic and organic corrosion and scale inhibitors
Health Hazards
Not for use in potable water systems
Considered hazardous by OSHA Hazard Communication: 1910.1200, Standard - 29 CFR
Handling
Keep out of the reach of children.
Avoid contact with skin and eyes.
Wash out empty container thoroughly with water before disposal
Storage
Keep container tightly closed
Store in cool, well ventilated area
Spillage
Flush spillage with plenty of water and wash to waste
Fire/Explosion Risks
Non-flammable
Skin Exposure
After contact with skin, wash immediately with plenty of water.
If irritation develops, seek medical attention
Eye Exposure
In case of contact with eyes, rinse immediately with plenty of water and seek medical advice.
Keep eyelids apart
Seek medical advice
Ingestion
Rinse mouth with water
Do NOT induce vomiting!
Seek medical advice
FAQs
Will Sentinel X100 protect my system if it is filled with softened water?
Softened water, is not suitable for filling a central heating system unless the water is treated with a high quality corrosion inhibitor. Unlike many other products on the market, Sentinel X100 has been especially designed to cope with all types of supply water, even softened water and affords complete protection.
How long does Sentinel X100 last in the system?
Once the correct amount of Sentinel X100 has been added, it remains in the system indefinitely, providing ongoing protection. Depletion only occurs by dilution, e.g. when the system is topped up after removing, emptying and then re-connecting radiators during house decorating. It is necessary to check the concentration of Sentinel X100 using the Sentinel Test Kit after replacement of system components (boiler, radiators etc) and replenished as necessary.
Is Sentinel X100 compatible with other brands of treatment products?
The effects on system protection and function of system components cannot be predicted when adding Sentinel X100 to a system already containing other chemical inhibitors. Therefore, it is not recommended to mix Sentinel X100 with other inhibitor products.
Can I use Sentinel X100 if I have aluminum components in my system?
Yes!! Sentinel X100 was specially developed to protect multi-metal systems, including those comprising aluminum components. Sentinel X100 protects aluminum by ensuring and maintaining neutral pH conditions.
My water pH level is about 8.0 - will the Sentinel X100 increase this?
No. Sentinel X100 contains what is known as a pH "buffer". These ingredients in the formulation are designed to actually control the pH level in the water at neutral (approx. pH 7.0), even if the pH level of the incoming water is less than 6.5 or more than pH 8.0.
What dosage should I use?
One quart of Sentinel X100 is sufficient to treat a typical residential system of up to 25 gallons. Larger systems should be dosed at 1% of system water volume.
Can I use Sentinel X100 in a Primatic Cylinder?
No.
Options and Accessories
X100 Quick Test Kit
The Sentinel X100 Quick Test is a quick and easy way to check the level of Sentinel X100 inhibitor in a central heating system. This disposable test kit contains sufficient reagents to test a system twice.
Technical Documents
Technical Documents
Share this Product