Benchmark Platinum 4000 and 5000N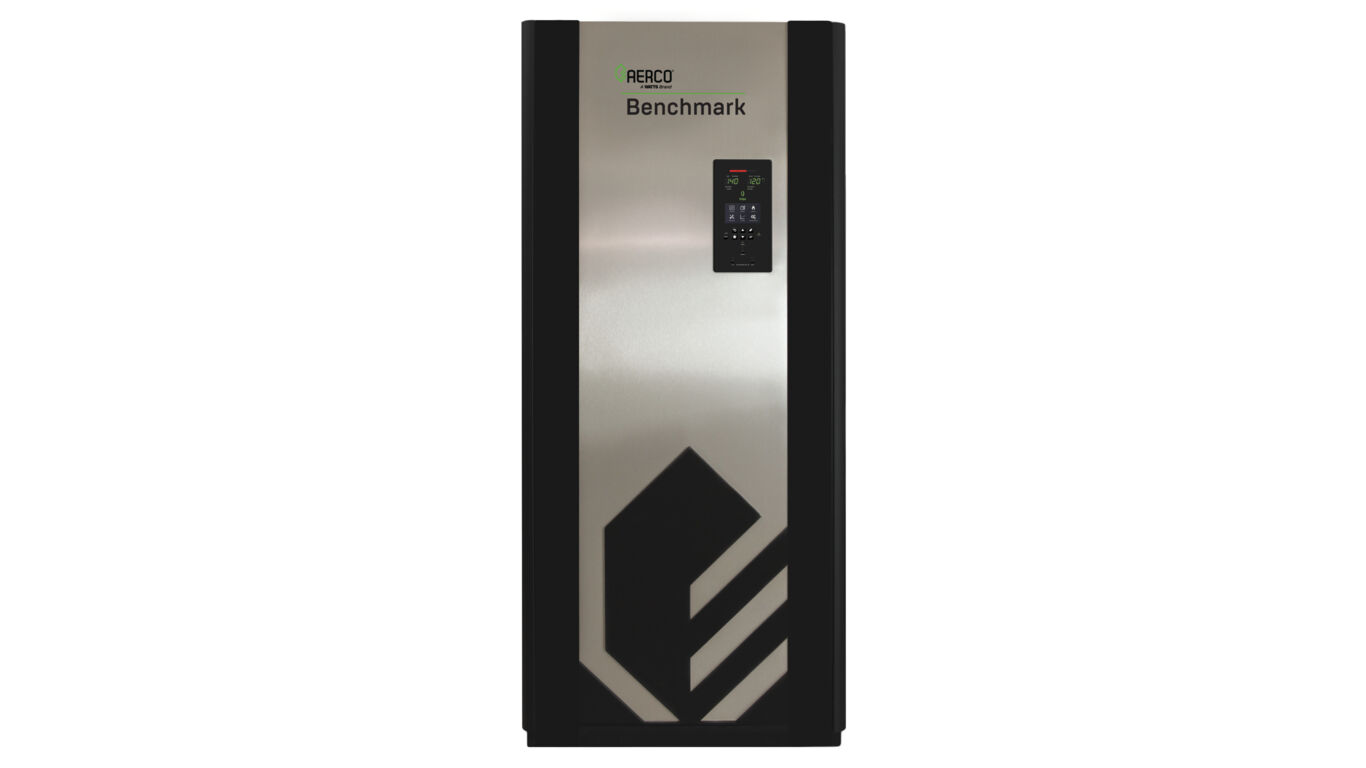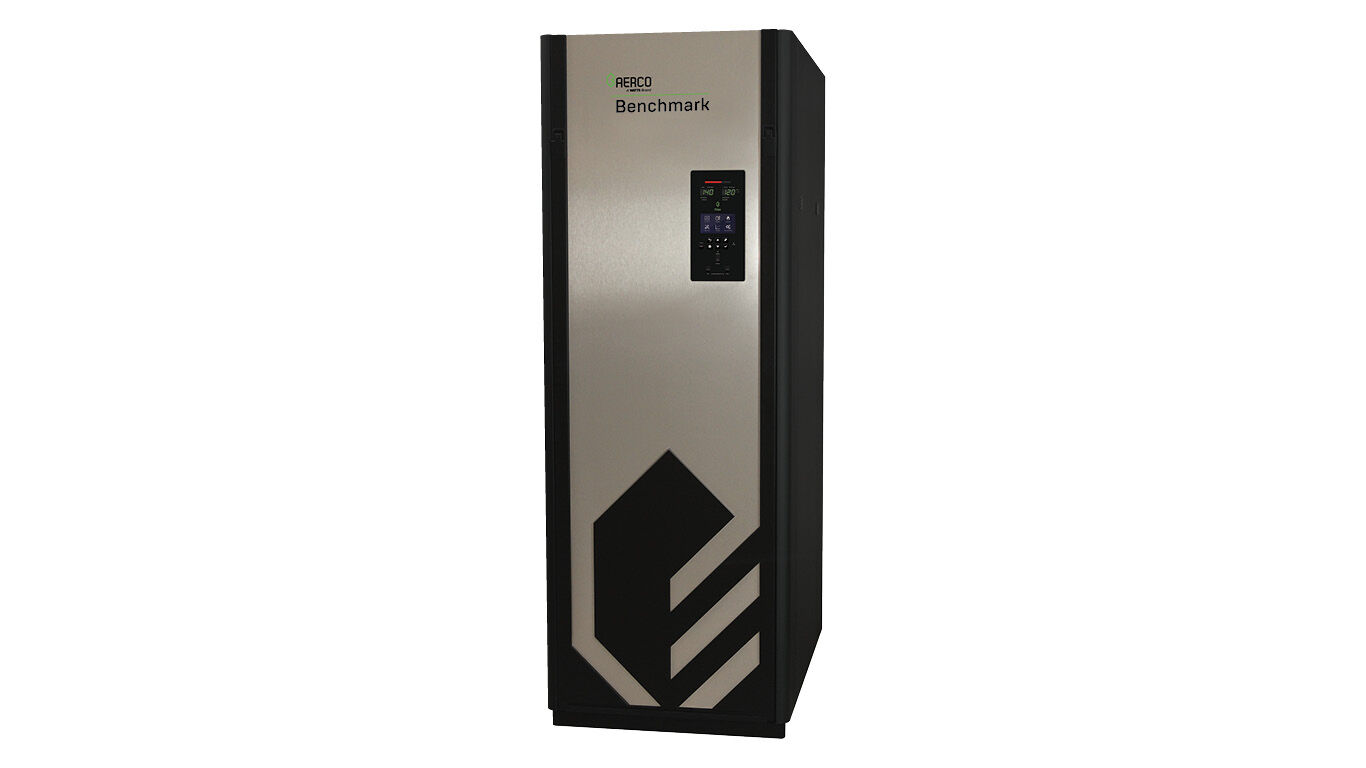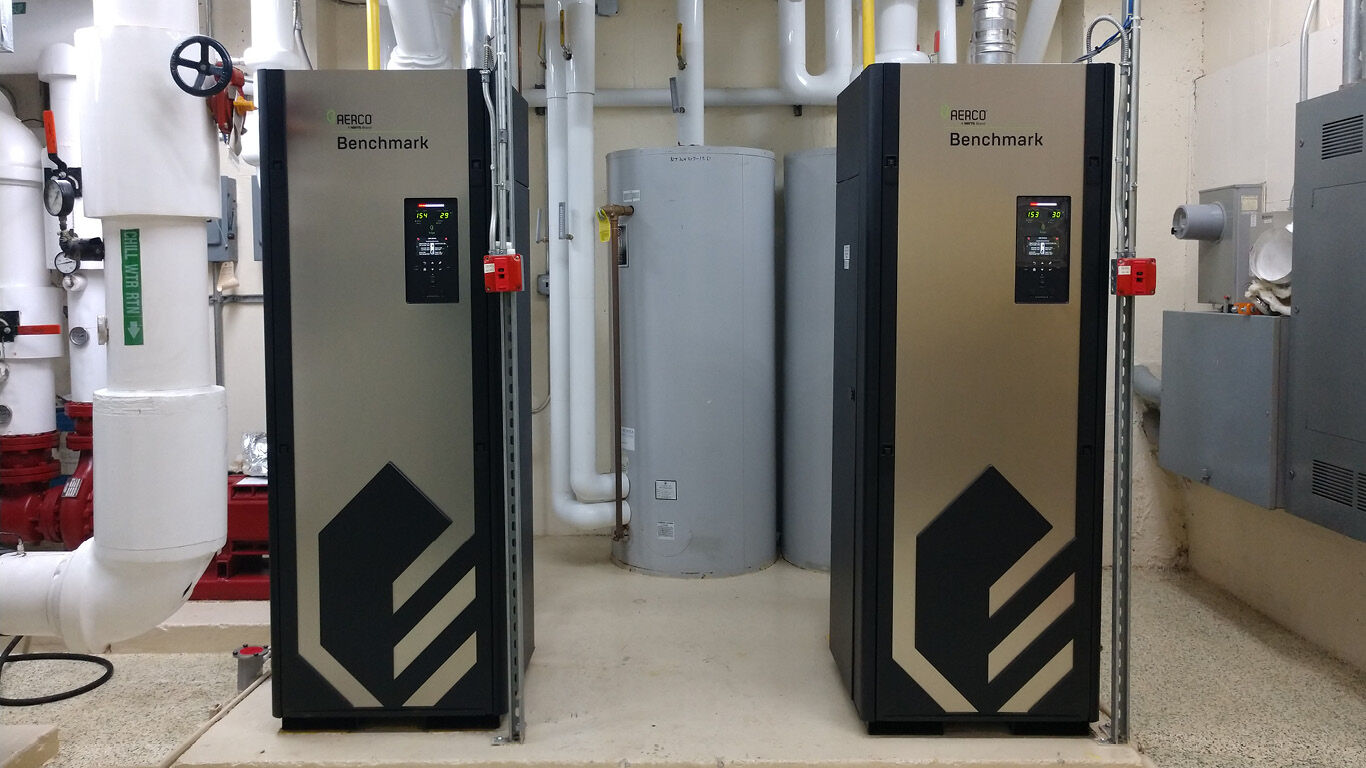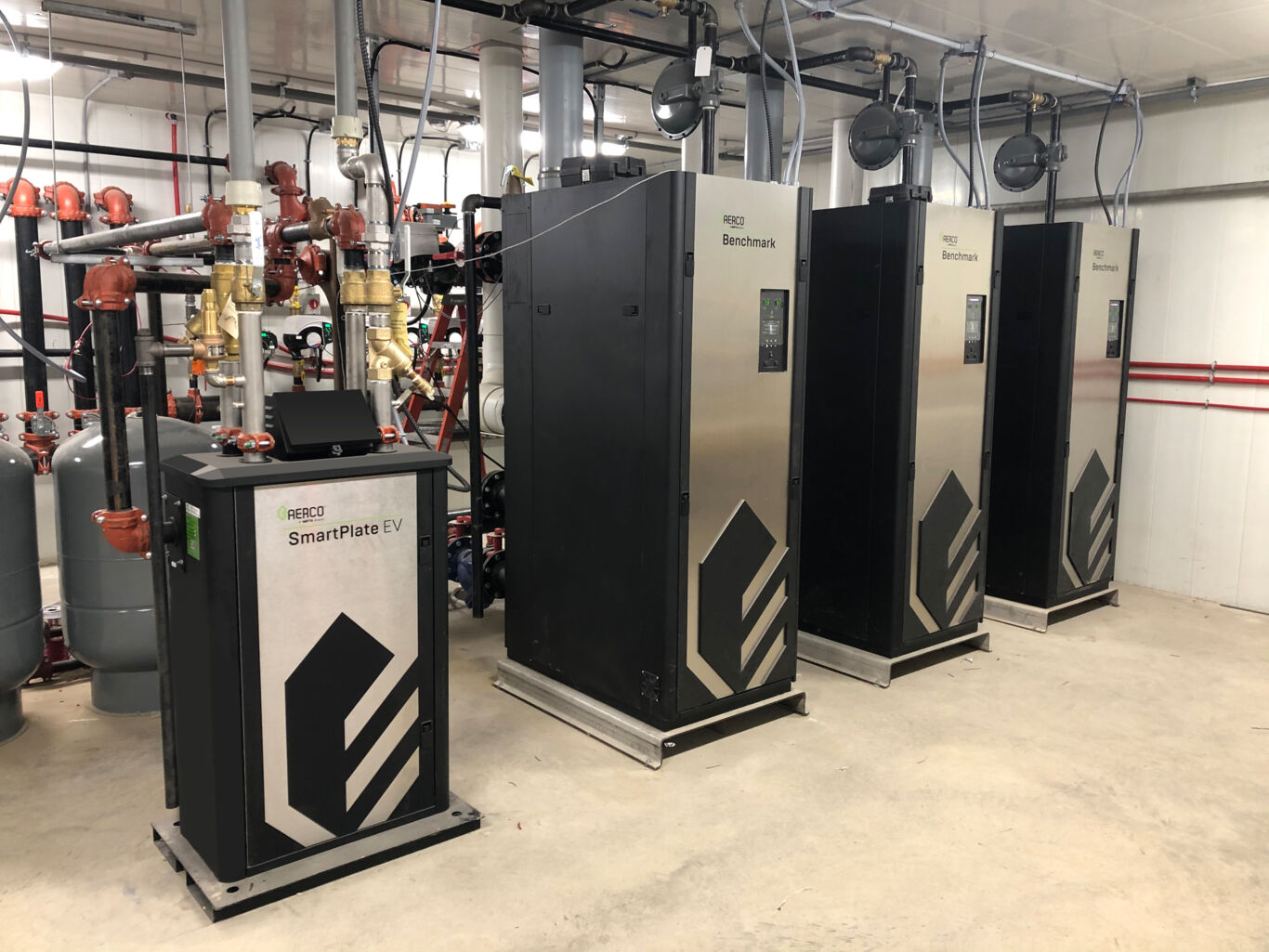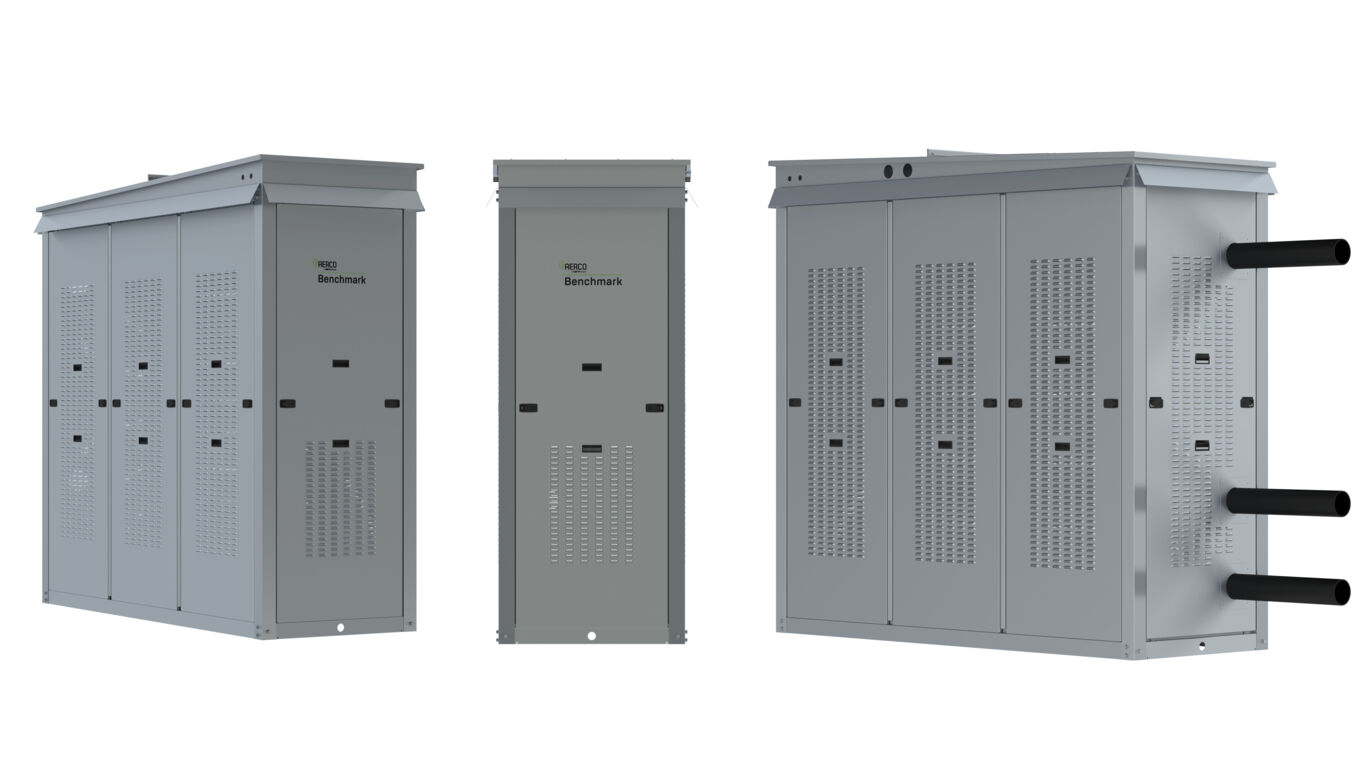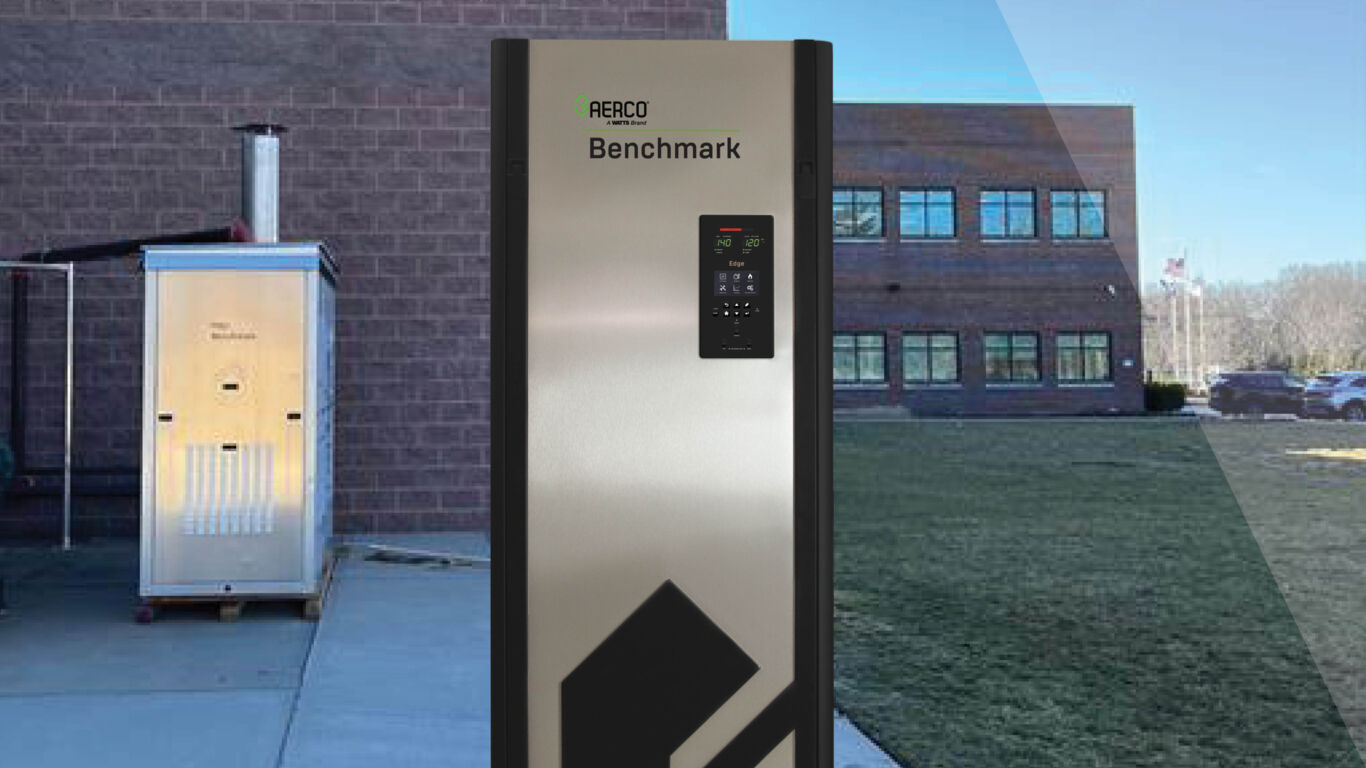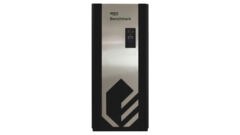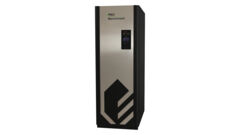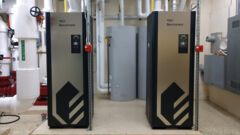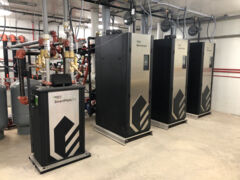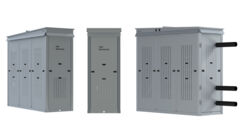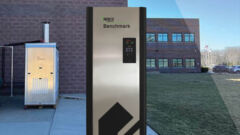 Condensing, gas-fired, fire tube boiler
Advanced Edge Controller and mobile app
4000 and 5000 MBH
Save Time and Money on Install and Operating Costs
Simplify Startups and Maintenance
Strengthen System Efficiency and Performance
AERCO's Benchmark® Platinum commercial condensing boiler optimizes hydronic systems delivering up to 9% additional efficiency through patented technology and innovative features. It enables precise combustion by self-correcting problems caused by external variables, such as fluctuations in combustion O2 levels, air temperature, occupancy/loads and gas pressure, so your unit operates as it was designed and as you expected. Benchmark Platinum delivers superior performance, maximum efficiency and the lowest cost of ownership.
AERtrim™: patented O2 Trim technology
Edge® Controller: advanced features such as EZ Setup and Combustion Calibration Assist
Edge Mobile App: enables full unit setup and control with enhanced diagnostics and configuration capabilities; freedom to move around the unit when configuring, diagnosing and troubleshooting
Dual Returns: enables maximum efficiency and application flexibility
onAER® Predictive Maintenance: analytics tool ensures system operates at peak performance
Industry-Best Warranty
Download the Edge Mobile App now: iOS and Android.
Use our pre-populated autoCAD schedules with detailed notes to ensure you get the exact product you want.
Features and Benefits
Incorporating AERCO's highly reliable, stainless steel, fire-tube heat exchanger, the Benchmark Platinum 4000 and 5000N provide engineers, facilities management and building owners with the flexibility to fit in both retrofit and new construction that require one or multiple 4000 or 5000 MBH boilers.
Platinum exclusives:
AERtrim patented O2 Trim technology provides precise combustion (standard)
Edge Controller and Mobile App – advanced features including seven industry-first's
Dual Return water connections enable maximum efficiency and application flexibility (standard)
onAER Predictive Maintenance pro-active performance analytics tool
Industry-best warranty
Benchmark:
Durable 439 stainless steel fire tube heat exchanger
Compact footprint
Integrated BACnet IP, MS/TP, Modbus TCP, RTU (no Gateway required)
Low operating, maintenance and installation costs
Easy serviceability
up to 20:1 turndown ratio (5%)*
Controls combination plant (space heating and domestic hot water) with additional backup performance logic
Natural gas, propane, or dual fuel
Low NOx emissions 9 or 20 ppm or less at all firing rates
Precise temperature control
Capable of variable primary flow installations
Venting versatility with AL29-4C or Polypropylene
Ducted combustion air capable
On-board Boiler Sequencing Technology (BST)
Backup manager
Controls options: Constant setpoint, Indoor/outdoor reset, Remote setpoint, 4-20mA signal or ModBus
*depending on capacity
Edge Controller
Edge Controller significantly streamlines and simplifies operation and maintenance of the Benchmark Platinum. It delivers many industry firsts including automated flow balancing, combination plant setup through manager (i.e., setup and manage two boiler groups for heating and hot water with swing boilers in combination plant), Combustion Calibration Assist, and the ability to submit service forms to AERCO directly from the app.
Edge Mobile App
The Edge Mobile App enables full unit setup and control, incorporating all the functionalities of the touchscreen controller, but with added benefits of enhanced diagnostics and configuration capabilities on a large screen. It enables you to trend multiple parameters of unit performance on one screen and submit service forms directly from the app. Edge Mobile App further simplifies start-up and maintenance by giving you the freedom to move around the unit when configuring, diagnosing and troubleshooting. Available on iOS and Android.
AERtrim
Advanced combustion control systems in high efficiency boilers need to maintain precise air/fuel ratios in order to work properly and maximize efficiency. However, environmental variations (such as humidity, atmospheric pressure, filter dust loading, delivered gas energy content and other factors) can often wreak havoc on gas boilers causing them to deviate from the ideal oxygen-fuel ratio.
AERCO's innovative, patented AERtrim monitors the actual conditions of the Benchmark Platinum and self-adjusts its combustion process to ensure your system is operating at optimal O2 levels and peak system efficiency. With proper O2 levels, you'll have greater uptime reliability, save money with increased efficiencies, produce lower emissions, and create the ideal environment for condensing to occur. You'll also lowers operating and maintenance costs and receive an additional 1-2% in seasonal efficiency gain. Oxygen levels can be directly displayed on the unit in real time or be remotely moni­tored via Modbus or onAER, giving customers the ability to measure the emissions level and fuel economy of the boiler without traditional combustion calibration devices.
Dual Returns
With Benchmark Platinum's Dual Returns, AERCO enables you to take full advantage of your premium Benchmark boiler by helping you design the most efficient system possible.
Most traditional boilers only have Single Returns which limit engineers to designing generic applications that force the blending of hot and cold water temperatures, which create a small Condensing Zone in the Heat Exchanger thereby reducing efficiencies. However, Benchmark Platinum's Dual Returns allow engineers to take full advantage of diverse load demands specific to a site and design a customized system that maximizes operation efficiencies by keeping cold water separate creating a much larger Condensing Zone thereby enhancing boiler efficiency up to an additional 7%.
Dual Returns are ideal for applications that feature combination systems including, but not limited to Multi-zone space heating, space heating with domestic hot water combination systems, radiant floor heating, pool heating, snow melt, and supplementary heat for heat pump systems.
onAER Predictive Maintenance
Benchmark Platinum boilers come onAER-ready with a 5-year subscription standard. AERCO's onAER predictive maintenance tool enables users to view boiler plant operation and status, track performance and efficiency, and set and view alerts such as faults or maintenance. onAER can be set to provide alerts to local AERCO factory-trained technicians, offering additional peace of mind, ensuring the utmost uptime reliability. onAER helps you prevent unnecessary wear-and-tear of your equipment as well as premature failure, and reduce unscheduled maintenance.
Industry-Best Warranty
In addition to all the advanced features of the Benchmark Platinum, AERCO also provides the best warranty in the industry:
15-Year Heat Exchanger - Thermal Shock, Condensate Corrosion, Manufacturing Defect
Five-Year Burner
Three-Year Edge Controller
Two-Year Parts Warranty
Unmatched Modulation and Efficiency
Benchmark Platinum water boiler is designed for condensing application in any closed loop hydronic system. It delivers unmatched burner modulation to match energy input directly to fluctuat­ing system loads to yield the highest possible seasonal efficiencies. And no other product packs as much capacity into such a small footprint.
Low Emissions
To minimize emissions, the Benchmark Platinum series is fitted with a Low NOx burner whose emissions will meet the most stringent NOx and CO requirements. The fully modulating burner also maintains AERCO standards for energy efficiency, longevity, reliability and construction quality. The boiler can be field set for Ultra Low NOx emissions of 9 ppm.
Compact, Easy-to-Apply Design
With the smallest footprint in the industry and measuring only 78.2" high x 34" wide x 63.5" deep, the Benchmark Platinum 4000 and 5000N easily fits through a standard size doorway overcoming the most challenging projects in the smallest mechanical rooms. Benchmark Platinum boilers can be used as an individual unit or in modular arrangements and offers selectable modes of operation. In addition to controlling the boiler according to a constant set point, outdoor reset schedule or 4-20mA signal, one or more units can be connected to BAS system via integrated BACnet or Modbus protocols. Both protocols can be connected via IP or RS485. For boiler plants ranging from 2-16 boilers, AERCO'S built-in Boiler Sequencing Technology (BST) can be utilized. For heating plants greater than 16 boilers, AERCO Control System (ACS) provides the right solution for up to 32 boilers. Likewise, Benchmark systems can be easily integrated with a facility-wide Energy Management or Building Automation System.
Boiler Sequencing Technology (BST)
It requires less energy for a group of modulating boilers, each firing at "part load," to heat a building, than for a single boiler operating at "full fire" to carry the entire workload. To meet building demand, the BST will employ as many boilers as available, each operating at its most efficient firing rate. Importantly, because the BST reacts in real-time to, up to 16 boilers, changes in the number of boilers available, users can take a unit offline for maintenance at any time or bring on back-up boilers for extremely cold conditions without changes to the BST. And as individual boilers are added or deleted, the energy delivered is automatically adjusted to prevent fluctuations in the header temperature of the plant.
Backup Manager
The EDGE's BST incorporates a backup Manager logic that is automatically triggered if the main Manager is being serviced or is turned off. This safety feature minimizes the chance of the whole plant turning off or not operating properly due to manager being off. The EDGE's BST is designed to connect to optional Dual-Bead headers and outdoor sensors to facilitate that logic.
Options and Accessories
Technical Documents
Technical Documents
Share this Product