AM Series Cascade Manager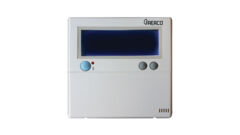 Maximizes the performance of a bank of AM Series boilers or water heaters
Simple to install and use to maximize heating plant performance.
The AM Series Cascade Manager is a simple tool that maximizes the performance of a bank of AM Series boilers or water heaters. The Cascade Manager is designed specifically to work with the AM Series control system.
Up to 8 units can be connected to one sequencer panel. One unit will be set to operate as the master with up to 7 dependent units.
Features and Benefits
Easy to install
Connect up to 8 units
Automatic lead-lag rotation
Small footprint
Simple interface
Two-wire connection
For boilers and water heaters
Technical Documents
Technical Documents
Installation, Operation and Maintenance Manuals

Literature, Performance and Dimensions
Share this Product