AM Series Heater Installation Kit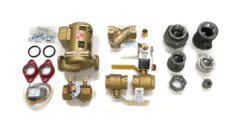 To help you install your new AM Series boiler or water heater, AERCO has compiled everything you need into one, convenient place, our AM Installation Kits. These kits eliminate the need to separately purchase all near-equipment piping components as well as remove any guesswork regarding which size piping is appropriate for your project. You'll have all the components you need at your fingertips to get your AM unit installed quickly and properly so it operates at peak performance.
Features and Benefits
AM Installation Kits contain all near-equipment piping components* including:
Constant speed pump with mating flange
RIB Relay/starter for pump contact
Positive shut-off circuit setter
Tee for low water cutoff installation
Y-Strainer (304 SS screen, #20 mesh)
with blow-off valve
Isolation ball valves
Pipe fittings
Design Guides for Piping Selection
Using our AM Series Primary Loop Design Guides, we'll also help you select the correct piping for your specific application. To use these simple guides, you only need to know your equipment model and the design temperature rise (heating)/water hardness (domestic hot water), and we'll tell you which installation kit and accurately sized piping you need.
Technical Documents
Technical Documents
Application and Sizing Guidelines

Installation and Piping Drawings

Installation, Operation and Maintenance Manuals

Literature, Performance and Dimensions

Product and Component Drawings

Technical Documents

Wiring
Share this Product